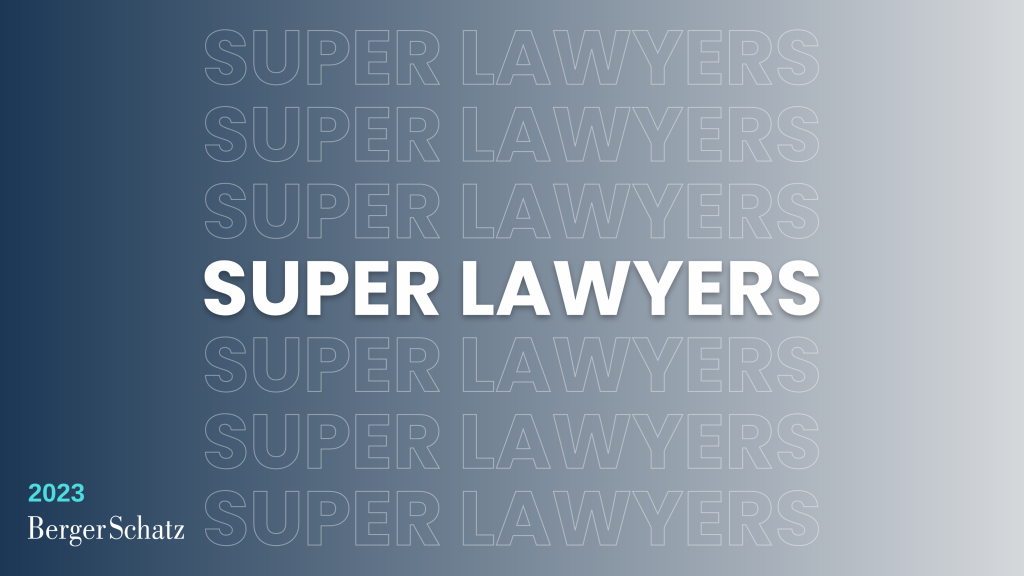 Congratulations to thirteen Berger Schatz attorneys for their recognition as Super Lawyers 2023.
Every year Super Lawyers selects attorneys from all firm sizes and over 70 practice areas throughout the United States. The selection process for this recognition is peer influenced, research driven, and awarded to only the top 5 percent attorneys in their field.
Alongside thirteen of our attorney's who earned Super Lawyers status, eight Berger Schatz attorneys also made the Rising Stars list.
The selection process for the Rising Stars list is the same as the Super Lawyers selection process, with one exception: to be eligible for inclusion in Rising Stars, a candidate must be either 40 years old or younger or in practice for 10 years or less. No more than 2.5 percent are named to the Rising Stars list each year.
Congratulations to all of our attorneys for this notable recognition. Full list of 2023 recipients is below.
2023 Illinois Super Lawyers – Family Law
Jason Adess
Michael J. Berger
Brian J. Blitz
Andrew D. Eichner
Leon I. Finkel
Molly Haunty
Margaret E. Keane
Marcelle R. Kott
David H. Levy
Zora Ristanovic
Michael Sabath
Barry A. Schatz
Dina Warner
2023 Illinois Rising Stars – Family Law
Erica Bernstein
Katelyn Blanchard
Zachary B. Cohen
Bridget Storrs Davis
Laura R. Gottlieb
Meredith Janes
Saman Pakshir
Hailee B. Zabrin
.