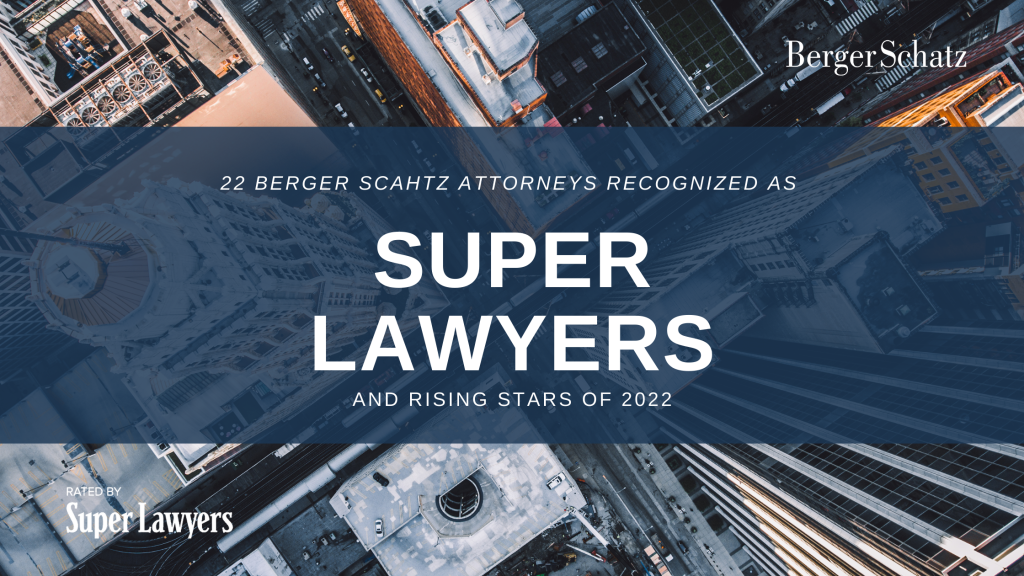 Berger Schatz is pleased to announce that 22 of our attorneys are recognized as Super Lawyers 2022 and Super Lawyers Rising Stars in Family and Divorce Law.
Super Lawyers recognitions are determined through a multi-phase process which includes; peer nominations, evaluations, and independent research to identify outstanding attorneys by state and practice. The final Super Lawyers list is comprised of no more than 5% of lawyers in the state, and 2.5% for Rising Stars list. To learn more about the annual selection process, visit Super Lawyers website.
Congratulations to our attorneys.
2022 Super Lawyers – Chicago
Jason G. Adess
Michael J. Berger
Brian J. Blitz
Andrew D. Eichner
Leon I. Finkel
Marcelle R. Kott
Karen Rose Krehbiel
David Levy
Barry A. Schatz
Dina Warner
Molly Haunty
Sharon S. Mobley
Zora Ristanovic
2022 Super Lawyers – Lake Forest
Michael S. Sabath
Craig M. Mandell
2022 Rising Stars – Chicago
Erica Bernstein
Katelyn A. Blanchard
Zachary B. Cohen
Bridget Storrs Davis
Laura R. Gottlieb
Saman Pakshir
2022 Rising Stars – Lake Forest
Special congratulations to Berger Schatz attorneys who have received Super Lawyers recognition for 10 or more years: Jason Adess (11 years), Michael Berger (18 years), Andrew Eichner (17 years), Leon Finkel (17 years), David Levy (17 years), Sharon Mobley (10 years), Zora Ristanovic (11 years), Michael Sabath (16 years), Barry Schatz (17 years), and Dina Warner (11 years).
To learn more about our attorneys visit https://www.bergerschatz.com/attorneys.