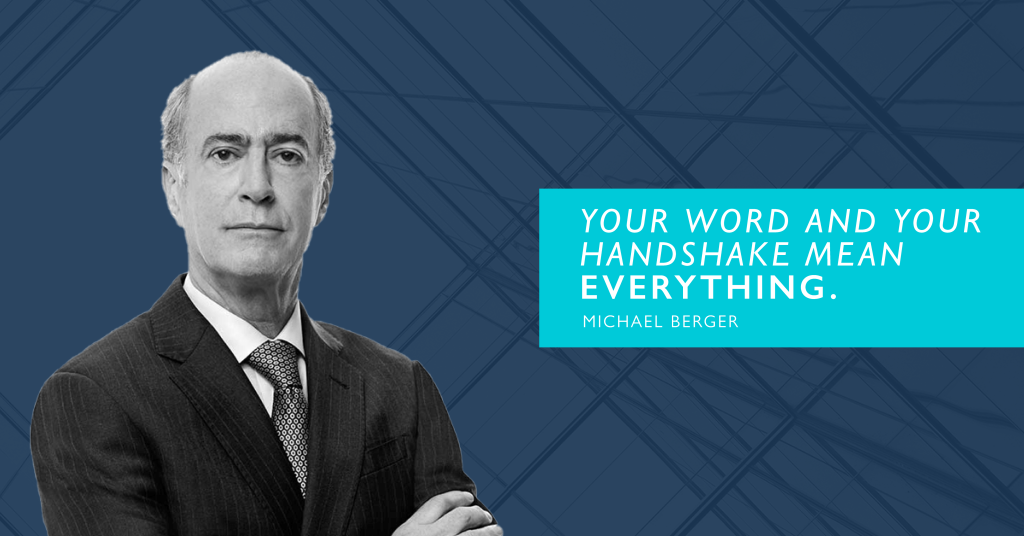 There was no doubt in my mind that I would be a lawyer someday. It was almost meant to be. As a young kid, I envisioned being a trial lawyer. As I got older, my goal was to be a lawyer's lawyer, and while I trained as a trial lawyer, I found myself drawn to family and matrimonial law.
My late father, Samuel Berger, was a man of many talents; he was a lawyer, judge, rabbi, civic leader and politician. I respected him greatly and followed him into the legal field, incorporating many of his lessons into my work. One thing I have carried with me and have tried to instill in everyone I have worked with is that your word and your handshake mean everything. I care about the people I work with and for and believe that cultivating relationships creates the best environment for success.
This is especially necessary in family law, as many are going through some of the most difficult and emotional times in their lives. When I entered the field in the 1970s, divorce was becoming more commonplace, and I knew families with sophisticated situations needed help from honest, caring and competent lawyers.
The Beginnings
I was made a partner in a different firm at the age of 28. At that time, things were changing in matrimonial law, and lawyers needed to change as well. My vision was to create a law firm that helped clients navigate through complex legal and family issues.
As more divorces were being filed, the state changed its divorce laws, including the introduction of the Illinois Marriage and Dissolution of Marriage Act in 1977 which provided for the first time the concept of a marital partnership. As such, lawyers needed to learn more about how to equitably divide marital assets, so I decided to become knowledgeable in forensic accounting and business valuations. With the aid of many professionals along the way, I learned how to analyze tax returns, financial statements and valuation reports that are used in a divorce in order to help my clients get a fair and reasonable settlement.
In 1987, our firm was born to tackle these changes and the difficult legal issues within family law. As we grew, so did our cases, and we became one of the largest, premier firms for family law in the country. Over the years, many well-known and high-profile Chicagoans have turned to us because of our ability to develop creative solutions to their difficult legal matters, while offering a sophisticated legal and financial analysis with a personal approach.
Berger Schatz Today
Almost four decades later, our team at Berger Schatz has grown to nearly 40 lawyers and two locations in the Chicago area, ready to assist clients' most challenging issues.
We have a deep bench of experienced and knowledgeable attorneys who love what they do and are fierce advocates for their clients. Many of our team members have been with us for decades, and that's because of the culture we have cultivated since the very beginning. We value the comfort and confidentiality of our clients. Our attorneys and employees have flexible work schedules and collaborative and communal spaces at our Chicago and Lake Forest offices that provide discretion and privacy to our clients. We get to know and support each other, and Berger Schatz is a place where people want to work each day. 
As highly skilled lawyers, we know divorce is not easy on any of the parties. It can be one of the most emotional processes a person goes through, and without an attorney who knows the ins and outs of the law and cares, it can be costly and unnecessarily time-consuming. The law is ever-changing, and we pride ourselves on creating solutions to provide our clients security for their future. That was true when Berger Schatz started nearly 40 years ago and will still be true for us in the years to come.
Learn more about Michael Berger and contact him at mberger@bergerschatz.com