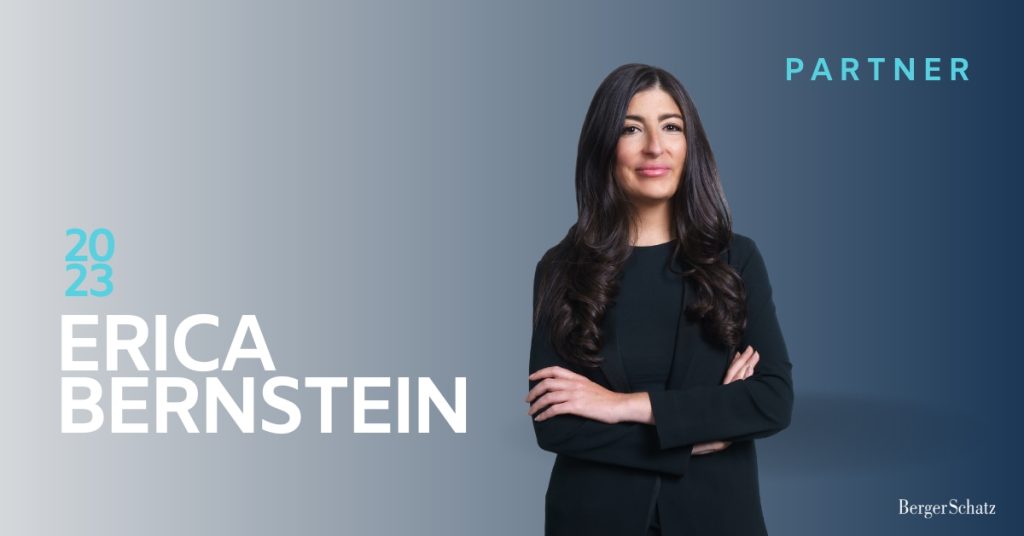 Berger Schatz is pleased to announce that Erica Bernstein has made Partner, effective January 1, 2023.
Erica specializes in cases involving high complex valuation and characterization of assets, as well as matters including high-conflict allocation of parental responsibilities. She has an unwavering ability to remain concise, committed, and level-headed during emotional conversations, characteristics that have attributed to much of her success.
This past year, Erica was awarded Chicago Lawyers' 40 Under Forty by Law Bulletin Media. She has also been recognized by Best Lawyers and Leading Lawyers as a top practitioner in Family Law.
"I am honored to become a Partner at Berger Schatz and look forward to continuing my commitment of providing the highest level of representation to our clients through some of the most challenging and difficult times of their lives. We have assembled an incredible team of professionals. Having the opportunity to help families achieve positive outcomes is fulfilling beyond description," Bernstein said.
Alongside building a thriving family law practice at a young age, Erica has served as the Co-Chair of the Chicago Bar Association's Young Lawyers Section Family Law Committee for the past four years, organizing CLE's and other programs that educate and give back to the law community. In this role she earned the David C. Hillard Award for Outstanding Committee Service.
She has also served as a legislative liaison for the Chicago Bar Association, representing and voting on behalf of the Young Lawyers Section Family Law Committee for proposed changes to all practices of law.
Erica graduated with honors from Chicago-Kent College of Law. During law school, she co-founded and served as president of the Chicago-Kent Child and Family Law Society.
Congratulations Erica on your promotion to Partner and your continued success!
Click here to learn more about Erica and her expertise.