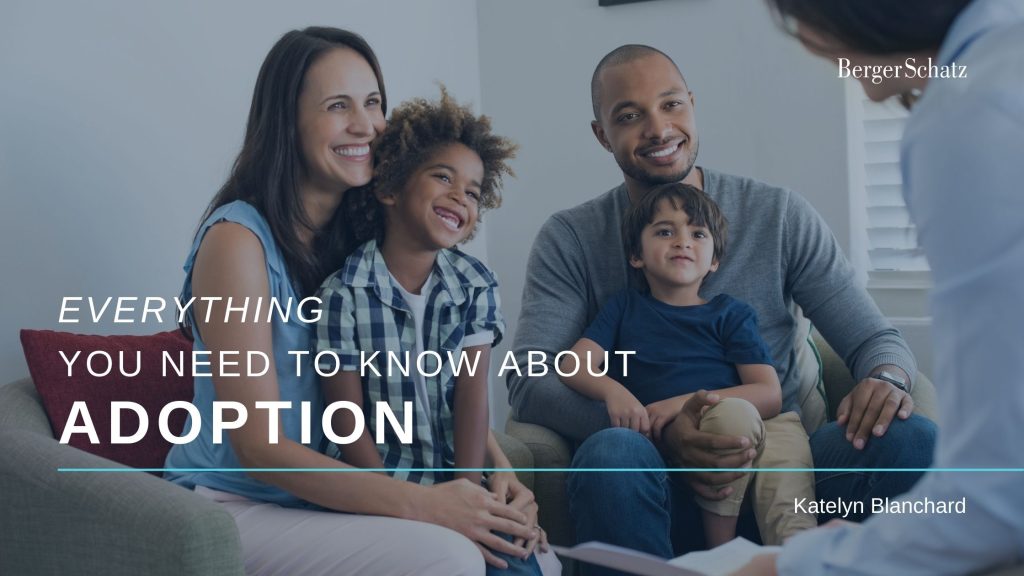 Adoption has been a legal process in the United States since 1850.
6 in 10 Americans have had personal experience with adoption, according to Adoption Network.
In conjunction with Pride Month, we would like to share how Berger Schatz has helped couples, including the LGBTQ+ Community navigate the adoption process. This is important because there are roughly two million LGBTQ+ people interested in adopting, according to LifeLong Adoptions.
Understanding issues that may be unique to the LGBTQ+ community is an essential component of our practice. Our attorneys work side by side with all our clients to ensure they achieve their family-building goals.
Berger Schatz attorney, Katelyn Blanchard has guided many couples through the process. Below Katelyn shares personal stories from her experience representing clients, and describes what you need to know when considering adoption.
The adoption process can be complex. It's important to have an attorney who is qualified and knowledgeable to guide you through each step of the process.
Why do couples seek adoption?
There are many reasons couples are drawn toward adoption including, infertility and same sex issues. In my experience, couples have come to me seeking adoption because regardless of the circumstances, they are establishing an unquestionable legal right to their child. Meaning, through adoption we are able to ensure that our clients do not have to worry about all the hypothetical situations that could happen simply because they do not have a piece of paper that says they are the child's legal parent.
What does a standard adoption look like?
During a standard adoption process the parties will first file their petition to adopt in the appropriate court and county.
Specifically for Cook County adoptions, the party, and the child (or children) they are seeking to adopt will appear and introduce themselves. The Judge may ask the parties a few questions to get familiar with them and their case. While this appearance may seem intimidating to my clients, I prepare them so that they feel confident and relaxed. During this meeting the Court will even provide the children with a special treat to make them more comfortable.
Following the introductions with the Court, the Judge will appoint a guardian ad litem. The guardian ad litem is an attorney assigned to the case to perform a general investigation of the parties and the child(ren) to ensure that the adoption is appropriate and consistent with the child's best interests. This happens in every adoption case. The guardian ad litem acts as the eyes and ears of the Court. They visit the adopting party's home to ensure sure they can provide a safe and appropriate home for the child. If they deem that the house is safe for the child(ren), they report to the court and the process proceeds.
In my experience, a guardian ad litem has never recommended that the adoption should not proceed. After this, the following steps are simply paperwork to finalize the adoption.
While this is typically how adoptions proceed in Cook County, each case has its own unique set of facts where potential issues can always arise. If an issue arises, we are there to help.
What types of adoptions do we handle?
We handle all types of adoptions, including, but not limited to, third party adoptions (such as adoptions of children from other countries, children of relatives, etc.), adoptions of children conceived through reproductive assistance, LGBTQ+ couple adoption, and stepparent adoption.
Who/what makes a good candidate?
The single commonality for anyone seeking to adopt is that they love their child unconditionally regardless of biology. The Court wants to be sure that the family seeking to adopt can provide a healthy, safe, loving, and stable home for the child(ren). Beyond that, there is no set of facts or circumstances that make any person a better candidate.
How long does the process take?
Most standard adoptions take no more than a few months to complete. However, the length of the adoption process is always dependent on the facts and circumstances that exist in each case.
What potential problems could arise throughout the process?
While most adoptions proceed smoothly, problems can arise throughout the process that could derail it. For example, a common issue some people see particularly in stepparent or third-party adoptions, is when a biological parent still has parental rights to his or her child. In that case, the adoption court would need to terminate the biological parent's rights before the stepparent, or third party could proceed with the adoption.
A similar issue may arise in adoptions involving reproductive assistance. If proper protocol is not followed and agreements are not signed, a third party who had no relationship with the child may still have legal rights. Those rights need to be severed before proceeding with the adoption. It is important to have an attorney who understands these issues and can help you avoid them.
Does the process differ for LGBTQ+ or same sex couples?
The adoption process in Illinois is the same regardless of gender, sexual orientation, or identity.
Berger Schatz advocates for and guides families through a variety of family building issues including adoption, assisted reproduction contracts (egg donation, sperm donation, gestational surrogacy), and fertility clinic contract review in relation to disposition of embryos. We work alongside all our clients to ensure their family-building goals are met.

This post was authored by: Katelyn Blanchard