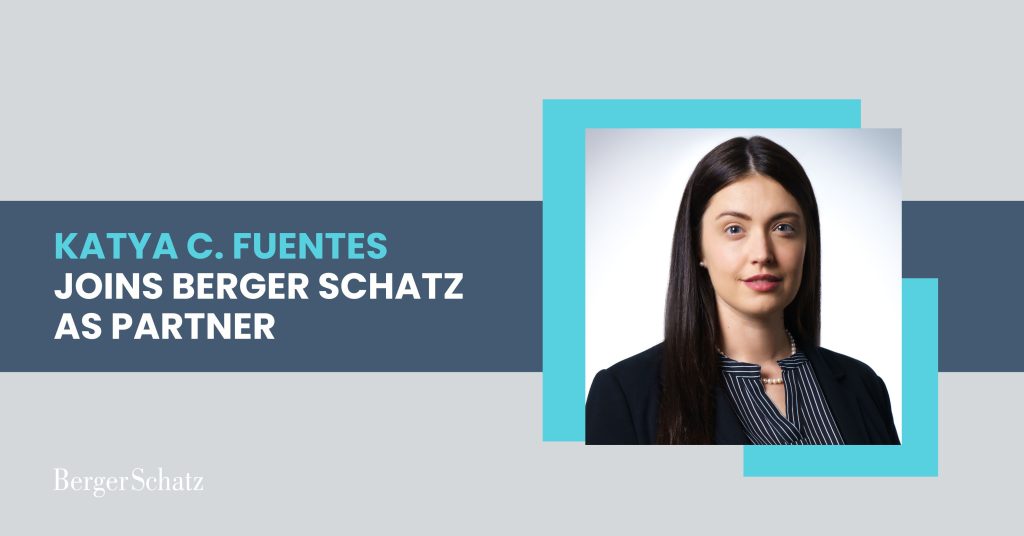 We are pleased to welcome our new Partner, Katya Fuentes to the Berger Schatz team.
Katya has substantial experience representing a variety of clients in all aspects of divorce litigation including the valuation and disposition of substantial assets and business interests, maintenance, child support, and allocation of parental responsibilities and parenting time.
"I decided to join Berger Schatz because they have been one of the largest premier family law firms in the country for over 35 years, determined to evolve and adapt to the changing legal and societal landscape," Katya Fuentes said.
Prior to joining our firm, Katya was Partner at another Chicago family law firm.
Outside of her daily practice Katya has served as an adjunct professor and volunteer coach for the Trial Advocacy team at IIT Chicago-Kent College of Law, her alma matter. In law school she served as a Judicial Extern in the Cook County Domestic Relations Division and was a member of the nationally ranked Illinois Tech Trial Advocacy team.
Katya has successfully guided her clients through difficult divorce and family law issues, earning her recognition as an "Emerging Lawyer" by Law Bulletin media since 2015.
"I am excited to work with the most talented family law attorneys at Berger Schatz.  Family law is complex. As one of the largest firms in the country, exclusively focused on family law, Berger Schatz offers me a wealth of experience and knowledge to draw on in resolving those complex issues," Katya Fuentes said.
Join us in welcoming Katya to Berger Schatz. To learn more about Katya and her experience visit her bio.