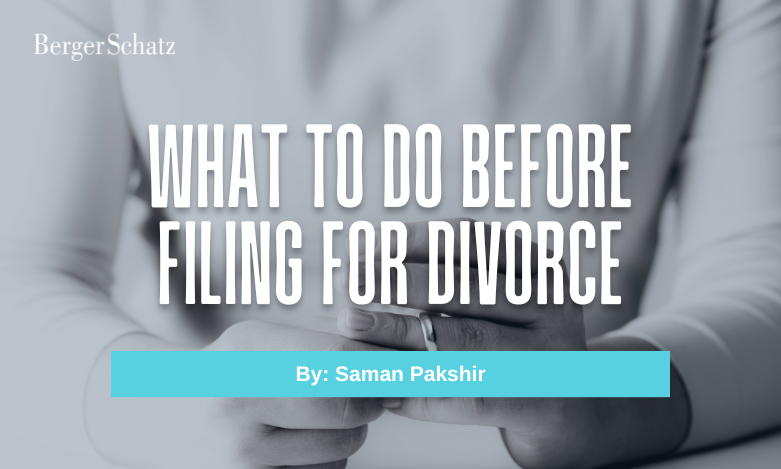 Filing for divorce is complex. You're not only flooded with emotions, but you also must consider the logistics of separation.
What happens to your finances? What happens to your children? Do I tell my spouse my feelings?
If filing for divorce is your best option, we suggest that you first perform an internal audit and ask yourself questions like:
What am I hoping to achieve?
What are my fears about the process?
Do I have a clear understanding of my finances?
Do I have a support system that can help me navigate the process?
Too often people hire the first attorney they meet with, even if they aren't the best fit. This is because they come to the initial consultation unprepared. Having a rough outline of what you hope to achieve will allow for you to ask meaningful questions and understand if this attorney's strategy, capability, and approach are right for you. 
Setting Goals and Expectations When Filing for Divorce
Where do I strive to be both physically and mentally after this?
If I have children – what are my goals for them?
What do I envision for my life long-term (5-10 years down the road)?
A concrete plan that outlines your goals will help you cultivate a plan of action.
You are your own advocate. It's your job to illustrate your goals, and your attorney's job to set realistic expectations. Once goals are set, your attorney will help you explore all possible outcomes and find creative solutions to legally address them.
Familiarize Yourself with Your Finances
It's crucial you have a firm grasp on your finances. The divorce process involves basic financial gathering homework. The sooner you begin collecting that information, the better prepared you will be when working with an attorney.
If you are not familiar with your finances, begin by grouping them into two buckets:
Assets and Liabilities – list all assets (house, property, business, investments, etc.)  and liabilities (mortgage, debt, loans, unpaid bills, etc.) that were acquired prior to, or during your marriage.
Income and Expenses – Make a list of all money that is coming in (income of both you and your spouse) and money going out (recurring and ongoing expenses).
A very normal, and common concern, when going through a divorce is future financial stability. It's important that you outline what financial stability looks like for you.
Ask yourself questions like:
How much money do I need to maintain my desired lifestyle?
What monetary level am comfortable with to best support my children?
Are there current expenses that I can live without?
What large purchases will I need to make immediately following divorce?
By understanding your finances, you can set realistic expectations as to what type of lifestyle you are comfortable with post-divorce. Your attorney will then help you understand how the law factors into achieving those financial goals.
Assemble a Support System 
Going through a divorce is an emotional process. Assembling a support system that you can lean on during times of distress is critical. This support system should include people like; family, friends, therapists/counselors, divorce attorney, accountant, financial advisor, etc. 
Approaching Your Spouse
Generally, transparency is pivotal in the long run when filing for divorce. Ruining any semblance of trust by filing secretly and surprising your spouse with service of the filing is usually short sighted and can negatively impact their cooperation. When couples can communicate to one another the reasons they are seeking divorce, the more amicable the process will likely be.
However, if you believe that your, or your children's, mental and physical well-being is in danger by confronting your spouse, it's important to speak to an attorney about your options. They will help you with proper communication and direction on how to best proceed.
Focus Your Mindset
Let go of all expectations of "winning" and what you believe to be "fair". Filing for divorce is undeniably difficult for both parties. There are no true "winners".
Instead of focusing on revenge, focus on getting to the other side – one with financial stability, happiness for you and your family, and an amicable co-parenting relationship. 
The better prepared you are prior to filing for divorce, the less overwhelming it may seem. As you continue in the divorce process, it's important to keep a list of legal and practical questions as they arise. This helps you organize your thoughts and make meetings with your attorney most productive.
This post was authored by: Saman Pakshir
Saman (Sami) Pakshir is skilled at negotiation, mediation, and alternative dispute resolution aspects of family law cases. Her experience includes cases with high net worth families involving prominent figures in business and the entertainment industry, contested custody/allocation of parental responsibility matters, international jurisdiction issues, and the valuation of business and business interests.