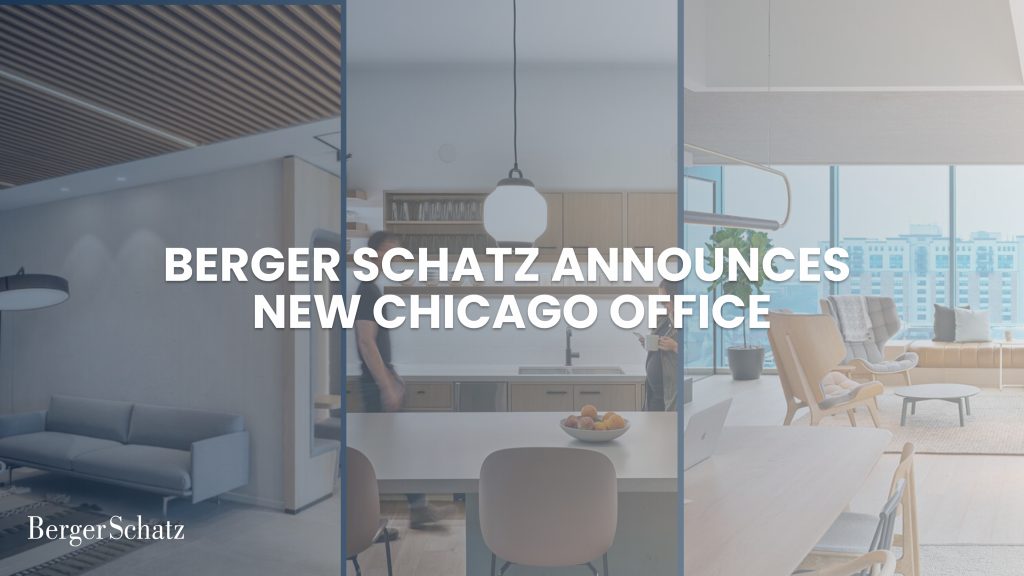 Berger Schatz is excited to announce that they are moving into a new office space this month.
Their new office is located on the 33rd floor of 161 North Clark, five floors up from the office they have occupied for the past 25+ years. This custom-built space adapts to the new realties of the legal world and allows Berger Schatz to continue with their hybrid model.
This familiar location is located in the heart of the loop, across from Google's Thompson center. It features a conference center to encourage collaboration, an open concept floorplan for events and hosting, amazing skyline views, full-height windows that maximize daylight, and so much more.
The design of this space provides the cutting edge of legal technology and comfort to our attorneys and clients. As the world has changed since COVID, we considered those changes in the design. The moment you enter our new office you will recognize that this design is unlike your standard law firm office and how they have been structured for generations. I look forward to enjoying this office for many years.

Michael Berger, Founding Partner and Principal at Berger Schatz
Connection was the focus when designing this space. Throughout the office there are multiple conference rooms to provide comfort for private meetings.
We worked closely with our architects and designers to create a collaborative and communal space for our employees. We wanted to create a space that has all the amenities of an office, with the comfort of a home. For clients, we focused on cultivating a warm and inviting space that provides discreetness and privacy.

Marcy Kott, Principal at Berger Schatz
The design fully embraces the new wave of conducting professional services, providing an environment and resources that facilitate both in person and virtual connection with clients. To further encourage the firm's hybrid model, the office is ran by a reservation system. Attorneys and staff have flexibility to create their own schedules, reserving an office as necessary.
My law partners and I have always tried to be sensitive and realistic about how to keep and attract talented teammates. We are hybrid now and continue to be hybrid, as that's what our team wants. Our new office space is designed to be comfortable, communal, and almost like a "law firm meet tech start up" floorplan.

Brian Blitz, Principal at Berger Schatz
In conjunction with the move of the Chicago office this month, Berger Schatz is renovating their Lake Forest office to also accommodate to the changing legal landscape.
Follow Berger Schatz on social media @BergerSchatz for details on upcoming events in their new space.