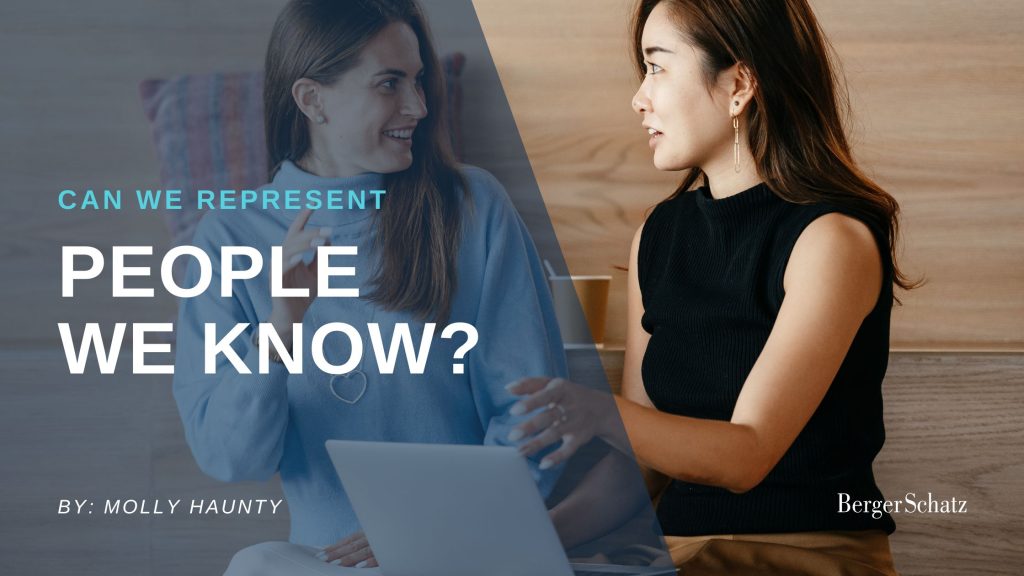 Nearly 70,000 attorneys actively serve the Illinois public, according to The State of Legal Profession for Illinois Lawyers.
We all know someone who is an attorney, or we know someone who "knows" an attorney. This may be a close friend, a family member, neighbor, someone in your community, etc.
When going through a stressful experience like a divorce, it's human nature to gravitate toward people who bring us comfort.
So when seeking representation for a divorce, should you go to that attorney you know personally?
Where do you draw the line between personal and professional?
As an active member in her community, Molly Haunty has experience representing close friends and family.
"I find value in being immersed in my community and establishing relationships with the people within that community, be it meeting people through charitable boards, mom-groups, friends, or my kids. My three kids play a variety of sports and I'm involved in many local organizations. I'm surrounded by couples engaged in similar activities and parents with kids my children's ages and all ages," Molly said
Molly answers the popular question,
"Can We Represent People We Know?"
I've been asked by many people I personally know to represent them during their divorce. Often because they know me and trust me, or they trust someone who knows me and recommends me. Some people are hesitant knowing our personal relationship or that I overlap in community circles with them and/or their spouse.
In short, we can represent people we know personally, and I'm not hesitant to represent them. I know that as much as I am knowledgeable in the field, I am also discrete. Plus, knowing my level of service, I would much rather my friend, family, or friend-of-a-friend receive the best representation possible.
How does the process differ from representing a stranger?
The only difference when I represent people I know is that I have a conversation with them about their preferences for my visibility. Meaning, do you want me leading strategy on the front lines, or do you want me in the background? This approach ensures you feel comfortable that your chosen trusted advisor (me) is still a part of the process.
Are there any conflicts of interest in representing someone we know?
In my opinion, the only time a conflict of interest arises is if the relationship prevents a tempered, balanced, reasoned approach to a case. Divorce representation is most successful when the attorney remains practical and does not let his or her emotions prevent a realistic view of the case and likely result.
What are the reasons an attorney wouldn't want to represent them?
A client who is looking to turn his or her divorce into the "War of Roses" will never be satisfied. In this scenario, the attorney runs some risk in representing friends, family, and/or members of his or her community. An unpleased and unsatisfied client could do a lot of damage to a professional reputation. In an instance of community-overlap, it's important for the attorney and the client, to feel comfortable and confident in the attorney's ability to set aside that overlap and zealously advocate for him or her in an unbiased and knowledgeable mindset.
In some cases, an attorney may be good friends with both parties to a divorce. This may be a good situation for the attorney to refer the potential client to someone else at the firm This is a benefit when working with a larger law firm like Berger Schatz. If I do not take the case, I'm confident in knowing that we have plenty of experienced attorneys who can. The chosen attorney should be confident that they can zealously represent the client notwithstanding a friendship with the opposing party.
What are the reasons an attorney would want to represent them?
I often tell potential clients that selecting an attorney is like selecting a surgeon for a big operation. Essentially, you want the best. You want to trust the person and his or her command over the process. Divorce is not one-size-fits-all. I truly want my friends, family, and community members to have the best representation that results in a solution best for their family.
Instead of working with the attorney they know personally, should they work with another attorney at the firm? If so, how does that process work?
If it does not make sense for them to work with me, absolutely it makes sense to work with another attorney at Berger Schatz. First, your initial contact (me) can check in and/or remain behind the scenes for any questions. Second, you are guaranteed that your initial contact is setting you up with the attorney who is best for your issue(s), your judge, the dynamic with the other party, and/or the opposing attorney. The trust that brought you to us initially will find you in the best hands for your case. Again, that is one of the benefits of working with a firm like Berger Schatz. If they can't work with me, I can direct them to the best attorney for their case.
How do you maintain privacy and discretion when it is someone who is close to you?
Some of the best practitioners in our field compartmentalize successfully. Meaning, the practitioner separates out his or her own beliefs, feelings, or personal experiences on the topics, and approaches the case from a neutral legal standpoint. This allows the practitioner to zealously advocate for his or her client without clouded judgment, while managing client expectations.
In being able to successfully compartmentalize, I'm also able to put aside my work when I'm in my community. It isn't "weird" or "awkward" running into my client or even the opposing party in the community when I know so much about a family's finances or personal life, because I don't judge them, the issues at hand, or the individuals. It's my job to help resolve a difficult situation, not make it more difficult. Plus, just as I approach an opposing counsel with collegiality and professionalism, I approach the opposing party with similar professionalism.
Overall, what are the advantages to working with an attorney who you know personally?
The trust between an attorney and client is paramount. A personal relationship can help facilitate that trust. A strong relationship helps build confidence during a difficult time. Just as you would for a medical referral – being in the most capable, skilled, and knowledgeable hands from someone well-known in the community (who isn't willing to risk their personal and professional reputation by blowing your case), and well-known in the field (to judges and to opposing counsels), is very important.
Building trust with an attorney is crucial, that's why we are not hesitant to represent people that we know. Despite the personal connection, our attorneys handle all their cases with the utmost respect and care. A life-altering decision like a divorce is difficult enough, it's important to find an attorney you wholeheartedly trust. Often, the closer the relationship, the better the trust.
To learn more about Molly and her expertise click here.