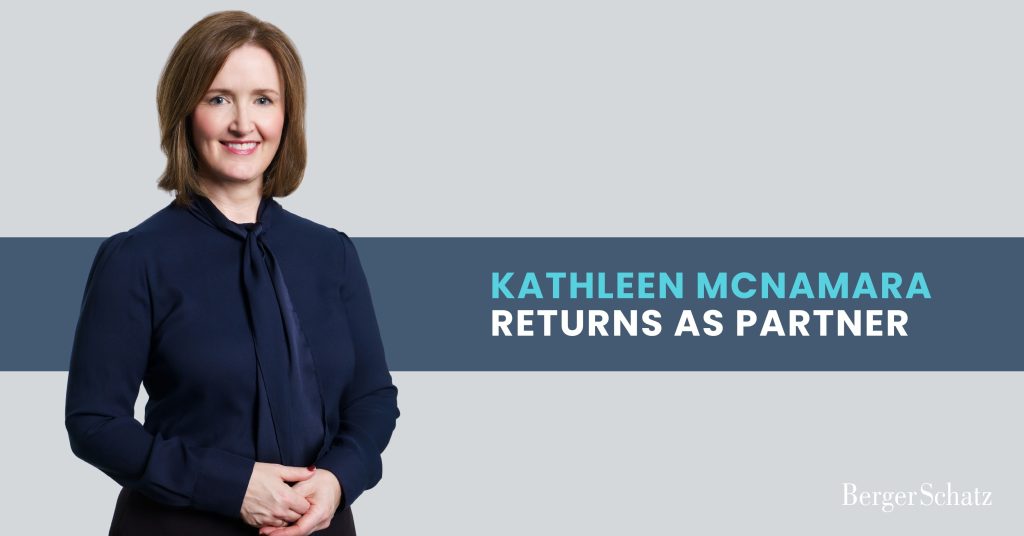 Our mission is to create a law firm that represents our clients the way we wish to be represented. We use that same approach internally – building a team and culture reflective of the needs of our people. There is no greater compliment to the culture we have worked hard to build, than when a former employee returns. With that, we are excited to announce that Kathleen (Katie) McNamara has returned to Berger Schatz as Partner.
"I feel I practice at my highest level and serve my clients best in the high energy, creative and collegial environment at Berger Schatz," Katie said.
Katie focuses exclusively in family law. Her litigation experience enables her to assist clients in navigating some of the most challenging issues in their lives.
She has extensive experience representing clients in high-conflict custody disputes and disputes involving child support, spousal maintenance, and the valuation and division of complex assets.
"I'm excited to rejoin Berger Schatz and help move the firm into the future," Katie said.
Katie McNamara received her J.D. from Northwestern University Pritzker School of Law and began practicing immediately after graduating in 2002. Before joining Berger Schatz, Katie was Partner at Schiller DuCanto and Fleck.
She is a member of the Illinois State Bar Association, the Chicago Bar Association, and the DuPage County Bar Association. In 2015, Katie was selected by the Leading Lawyers Network for inclusion in their list of Emerging Lawyers, and named to the list of Rising Stars by Illinois Super Lawyers.
Join us in welcoming back Katie McNamara to Berger Schatz. To learn more about Katie and her experience visit her bio.