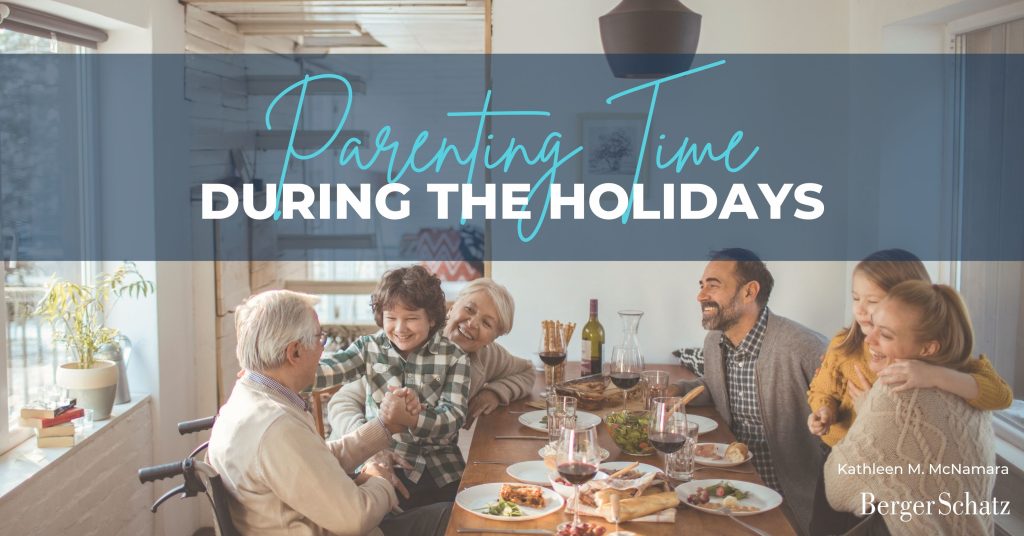 Holidays are a special time for children and their parents.
Many families have unique traditions that they look forward to all year.
After divorce, the holidays can stir up mixed emotions. Adjusting to a new parenting schedule and sudden child-less holidays can be difficult. 
I advise my clients who are going through a divorce to ensure they set up their holiday schedules well in advance of the holiday.
Planning for the Holidays During the Divorce Process
When parents are going through the divorce process and a final parenting schedule is not yet implemented, the holiday parenting schedule usually needs to be addressed as a discrete issue. I encourage these clients to address the holiday parenting schedule well in advance of the holiday. If parents wait until the last minute to propose a holiday parenting schedule, they risk not being able to come to an agreement. Those parents must then decide to agree to a schedule they dislike, or file a petition and ask the court to implement their preferred schedule.
It is surprising the number of parents who file petitions in court just before the holidays, asking them to be heard on an "emergency" basis. Courts usually have little patience for emergency petitions to set a particular holiday parenting schedule. A parent in this position is likely to end up with a holiday schedule crafted with little thought, or the court may decline to hear the petition altogether. Addressing the holiday parenting schedule well in advance leaves plenty of time for a petition to be adjudicated in due course, if necessary, and helps avoid unwanted outcomes.
Planning for the Holidays After Divorce
When negotiating what the holiday schedule after divorce, parents should consider which holidays to include, when each holiday will begin and end, and how each holiday will be allocated.
Most parents prefer to alternate holidays each year. For example, one parent has parenting time during the Thanksgiving holiday in all even-numbered years, and the other parent has the Thanksgiving holiday in all odd-numbered years. An alternating holiday parenting schedule allows both parents to feel included in all holidays throughout their child's life. It also allows them and their extended family to maximize holiday time with the children.
Occasionally, parents may agree that a certain holiday or holidays are for a specific parent each year.
For example, if one parent is Jewish, that parent may get time on Yom Kippur every year. If one parent's extended family travels into town every year for one particular holiday, that parent may get that holiday so that the extended family can maximize their time.
Parents must decide which holidays to include in their holiday parenting schedule. Some parents include only major holidays such as Thanksgiving, Christmas and New Year's, and agree to follow the regular parenting schedule on all other holidays. Many parents also include national holidays such as Independence Day, and any other holidays where school is not in session. Parents are free to include any holidays they agree upon in their parenting schedule.
When selecting holidays to include in your agreement, you must also "define" what that holiday means to you.
For example, does Memorial Day mean the entire weekend? Does "Christmas Day" start on Christmas Eve or Christmas morning? Does "Thanksgiving" mean just Thanksgiving Day, or the entire period the children are not in school?
When deciding how to define each holiday, it is important to consider the practical realities of exchanging children.
For example, small children may not want to travel from one parent to another on Christmas morning when they are in the middle of opening presents. Older children may want to sleep in and not have to wake up for an early exchange.
Parents should consider the likelihood of traveling over the holidays.
For example, does your family have a tradition of traveling over winter break? If so, the parties may prefer to divide winter break into a first half and a second half so the children can travel with both parents. Parents who prefer this may also agree that Christmas and New Years holidays will "go with" the weeks in which they fall to accommodate to travel.
Implementing a holiday parenting schedule that works for a family is crucial. In the event parents are unable to reach an agreement on a holiday parenting schedule, the court will have to step in and dictate a schedule. A judge does not have the capacity to dive deeply into your family traditions. Parents are far more likely to be happy with their holiday schedule if they cooperate, negotiate, and agree upon it themselves.
Modifications to Holiday Arrangements
Parents can always agree to modify their holiday parenting schedule. This often happens when something unexpected falls on a given holiday.
For example, if a parent's sibling is getting married on New Year's Eve, the parents may agree that the children will go to the wedding even if that parent does not have the New Years Eve holiday that year.
The parties may further agree that the other parent will get more parenting time on a different day (perhaps a different holiday) to make up for that lost time. Most parenting agreements will include a paragraph that addresses special events and exceptions. This may include family reunions, funerals, weddings, etc. Flexibility is necessary because life is unpredictable.
The court can also modify a holiday parenting schedule if circumstances warrant it. Again, it is important that a parent seeking modification raises the issue as far in advance of the holiday as possible. If there is no agreement to modify, the parents likely will be required to try to mediate the issue before a petition can be filed. Having such a petition adjudicated by the court takes time, so it is best to address this issue with the other parent as soon as it arises.
Prepare Yourself and Your Children When Holidays Approach
As the holidays approach, you should talk with your children about the holiday parenting schedule and where the children will be spending the holidays. This helps to mitigate any anxiety and concerns they may have, especially if the schedule is new to them.
If it is your year without the children, fill up your time so you are not sitting at home alone. Making plans with family and friends when you are without the children gives you something to look forward to, ensures you maximize the holidays for yourself, and gives you something to talk about with the children when they return. Children can often sense when you feel sad or lonely and it can make them feel guilty for enjoying their time away from you. Keeping yourself busy with fun activities helps avoid this, and the children will enjoy hearing about your time with family and friends.
Adjusting to a new holiday schedule takes thoughtful planning and time. Successful co-parents are diligent about planning in advance, and their children reap the rewards through enjoyable holidays spent with their parents, extended family, and friends.
If this is your first year without your children on a holiday, take comfort that it can still be a joyous time with the right plans in place.
Blog post by: Kathleen (Katie) McNamara